Posted on 17 April 2015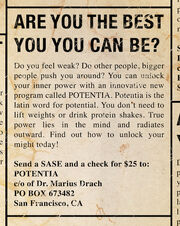 ARE YOU THE BEST YOU CAN BE?
Do you feel weak? Do other people, bigger people push you around?
You can unlock your inner power with an innovative new program called POTENTIA.
Potentia is the latin word for potential. You don't need to lift weights or drink protein shakes.
True power lies in the mind and radiates outward. Find out how to unlock your might today!
Send a SASE and check for $25 to:
POTENTIA
c/o of Dr. Marius Drach
PO BOX 673482
San Francisco, CA
Extra Notes
SASE stands for Self Adressed Stamped Envelope
Ad blocker interference detected!
Wikia is a free-to-use site that makes money from advertising. We have a modified experience for viewers using ad blockers

Wikia is not accessible if you've made further modifications. Remove the custom ad blocker rule(s) and the page will load as expected.