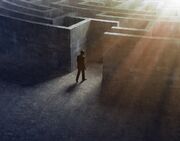 Posted on 13 February 2015
Puzzle
More challenges to address?
In the window, you can find these:
  khoohu
  junijwrnx
  lhzw
  vkrxoghu
  jolzhwlhrl

Decoding these using a Caesar Cipher, you get the names of the week's Challenge puzzles (even though this isn't a weekly Challenge):
  ROT 3:  Heller
  ROT 5:  Epidermis
  ROT 11: AWOL
  ROT 3:  Shoulder
  ROT 7:  Chesapeake

Match these to the solutions and use the ROT numbers to index those solutions:
  ROT 3:  Patagon      ➞ T
  ROT 5:  Moscow       ➞ O
  ROT 11: GoldenRatio  ➞ O
  ROT 3:  BatCave      ➞ T
  ROT 7:  Straitjacket ➞ J *

That looks like it should be "tooth". The answer is stl.la/tooth
* If you misspell the word "Straitjacket" as two words, "Straight Jacket", then you can get the "H" that way. But when this Challenge was published, http:/​/stl.la/straightjacket did not work as an answer.
Reward
Ad blocker interference detected!
Wikia is a free-to-use site that makes money from advertising. We have a modified experience for viewers using ad blockers

Wikia is not accessible if you've made further modifications. Remove the custom ad blocker rule(s) and the page will load as expected.