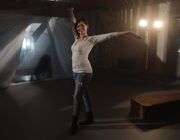 Posted on 30 April 2015
Transcript
Well, Students. After fighting it out in the Court of Murphy's Law for a long time, we have made some progress on the Leaderboard!
The Leaderboard should be accurate now for everyone who has participated in any of the Challenges and your Profile should be accurate as well. If you do not see your score, please login and go back to the Leaderboard, you should see it then.
Here's what's coming soon:
Actually, the scores are already being automatically tabulated but I want everyone to continue to comment until I'm certain the system is working correctly. In the meantime, feel free to try it!
In your Profile, you will see a list of all the Challenges and your score for each one so you can double-check your score.
Since we have so many new Students, I'll soon be adjusting the scoring moving forward. This will not change any scores retroactively. This will not happen immediately - I'll let you know when I'm going to change it.  FYI, the tiers will be, in order of solves:
 1-20: 200 points
 21-70: 100 points
 71-250: 50 points
 251+: 10 points
Referrers. In your profile, you will be able to select one fellow Student as the person who referred you. You will receive 200 points, AND the person that referred you will receive 200 points as well.
Please give me a little more time to make sure everything is working well. Everyone who has earned a spot on my Beta list or an Ingress Stella Medal will receive them. This includes the previously announced measurement, donations to the Cahokia Mounds orJacob Buterries efforts, and anyone who has signed up at an event.
We're just gearing up, Students. As always I'm grateful for your loyalty - and especially your patience. :)
-S 
UPDATE: If you're seeing a score of 0, go to any solution page while logged in. 
UPDATE #2: It should be working now. Let me know in the comments if it isn't.
Ad blocker interference detected!
Wikia is a free-to-use site that makes money from advertising. We have a modified experience for viewers using ad blockers

Wikia is not accessible if you've made further modifications. Remove the custom ad blocker rule(s) and the page will load as expected.