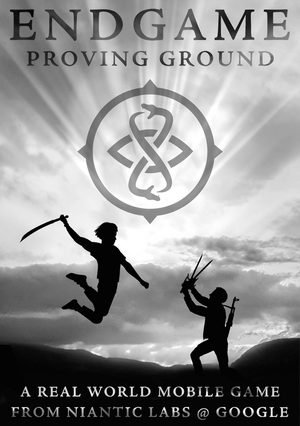 Proving Ground is an app developed by Niantic that will allow people to play in the real world using the Endgame universe as it's basis.
The closed beta test is planned to start at an undetermined date (Public figures like James Frey were told not to say any more dates)

Players will be able to choose one of the 12 bloodlines for their team
The story of the mobile game will tie in with the AncientSocieties ARG, but eventually catch up with the books. 
Player of the ARG that score in the leaderboard will get bonuses in the mobile game when it launches. 
Stella Vyctory and Greg Jordan will be central characters in the mobile game and accompanying social media content, with Greg a CIA agent Investigating Endgame after torturing an Endgame Trainer and killing him by accident.
James Frey might be tied to the mobile game storyline himself (he spoke of, in the game's universe, being the one discovering an ancient Arabic text describing Endgame)
Here is the current Endgame FAQ from the Ingress Support site regarding the Endgame APP
An official description stated the following A location-based mobile gaming app that expands upon the Endgame storyline in an entirely new way, letting players choose a side and step into the global challenge between the 12 bloodlines. Players enter a virtual proving ground, exploring real world locations as they battle opponents in intense, fast-paced duels to maximize their bloodline's global domination. 
Check here for more info on Gameplay , or you can check for more precise  information like Weapons , Artifacts and Characters .