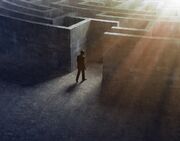 Posted on 26 June 2015
Puzzle
This Challenge will test your skills of lateral thinking:
Dive!...Surface!...Dive!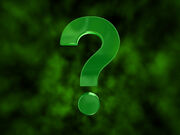 When can a image have text that is not visible at the surface ?
You might now a message that needs a key. What about looking for that key in the original page ?
From the clue (Dive!...Surface!...Dive!) you open the image in a text editor to look inside it and find the following text at the end of the file:
 Riddle me this: When is my name not my name?
 XWT YIH AWS OYJ YQT DMT IFP

The Riddler's other name is Edward "E." Nigma, so you find an online Enigma Machine Simulator .

To find the correct settings, continue to look "under the surface" again (Dive!) and check the source code of the page itself. There, underneath a giant ascii question mark, you find the following comment:
 <--Here's what you're looking for!!  IV-V-I  YFD  XQO MP LX YJ SC EW AV OZ KR NQ TF -->

Entering the settings above into the simulator, along with the 3-letter groups from the image code as the message itself, returns the answer:

WAX CYL IND ERP HON OGR APH

WAX CYLINDER PHONOGRAPH
Ad blocker interference detected!
Wikia is a free-to-use site that makes money from advertising. We have a modified experience for viewers using ad blockers

Wikia is not accessible if you've made further modifications. Remove the custom ad blocker rule(s) and the page will load as expected.