Ad blocker interference detected!
Wikia is a free-to-use site that makes money from advertising. We have a modified experience for viewers using ad blockers

Wikia is not accessible if you've made further modifications. Remove the custom ad blocker rule(s) and the page will load as expected.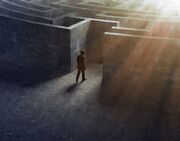 Posted on 15 April 2015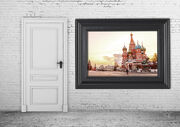 Remember the theme so far seems to be space
First the morse code is found clockwise around the frame of the picture. At first the morse code doesn't seem to translate to anything useful but from the hint of the picture from Russia, you know to use the cyrillic morse code translation.

Translating from morse to cyrillic to english you get:
сос сос - SOS SOS
костюм - suit
баллон - balloon
авария - crash
лес - forest
тайга - taiga
волки - wolves
This briefly tells the harrowing story of Voskhod-2 and the first space walk.

Thus the answer is:

восход-2 Voskhod-2

stl.la/восход-2 stl.la/voskhod-2 stl.la/восход2 stl.la/voskhod2

(Also the picture is of a SUNRISE over the Kremlin.)
The video Angela's Dolls