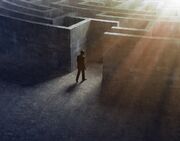 Posted on 20 May 2015
Puzzle
The words are titles. Figure out who wrote and/or performed them.
The numbered squares indicate how to get from the person to the solution.
The image on the left is a simple Word Find puzzle. Seaching on just a couple of the words together, such as "hanglide" and "broomstick" leads to a list of songs by Paul McCartney that have been released as singles. Fitting the words into the grid on the right results in:
A
L
L
I
G
A
T
O
R
A
P
P
R
E
C
I
A
T
E
B
R
O
O
M
S
T
I
C
K
C
A
G
E
D
A
R
K
R
O
O
M
G
R
A
T
I
T
U
D
E
H
A
N
G
L
I
D
E
H
E
A
T
H
E
R
J
U
N
K
M
A
G
I
C
N
E
W
Taking the letters from the numbered squares, in order, results in "HIS ORIGINAL BAND".  The name of Paul McCartney's original band was The Quarrymen.  The solution is stl.la/thequarrymen .
Ad blocker interference detected!
Wikia is a free-to-use site that makes money from advertising. We have a modified experience for viewers using ad blockers

Wikia is not accessible if you've made further modifications. Remove the custom ad blocker rule(s) and the page will load as expected.