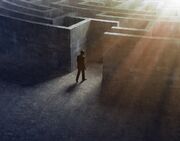 Posted on 16 April 2015
Puzzle
The first one of these into space (U.S)...
Sometimes looking at the middle of giberish reveals stuff
You make the leap that, because there are 26 rows, you must fill in one each of the 26 letters of the alphabet to form words. From the visual clue, you try star and space-related terms:

This gives the following:

Among the letters you filled in, you see a name: Jack Swigert.

A little research reveals that Jack Swigert was the first US bachelor to go into space, giving the answer to the question: Bachelor.

stl.la/bachelor
Reward
The Too Many Variables video
Ad blocker interference detected!
Wikia is a free-to-use site that makes money from advertising. We have a modified experience for viewers using ad blockers

Wikia is not accessible if you've made further modifications. Remove the custom ad blocker rule(s) and the page will load as expected.