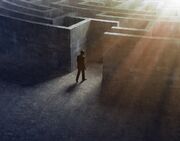 Original Link
Posted 21 October 2014
Puzzle
Shoot the moon...
0
90
0
315
0
270
90
90
315
90
45
315
270
0
Notice the values are multiples of 45 and the max value is 315
If you got something similar to runes remember Stella mentions moon.

Using the numbers you can draw lines with those values as angles.  


Using the moon font you can translate the lines to the word terminal 
stl.la/terminal leads you to  the pages gloves are off
Acolytes,
Those of you who were steadfast during this intrusion, I thank you for your loyalty. As you can see, forces outside of my control are working hard to stop us. They want to break us apart. To divide us. They will not succeed.
It's time to take off the gloves. I've fortified my defenses and now it's time to regroup and Get Ready.
I will see you tomorrow.
-Stella
This is related to the STERILIZED - YOU ARE THE CORRUPTION post
Ad blocker interference detected!
Wikia is a free-to-use site that makes money from advertising. We have a modified experience for viewers using ad blockers

Wikia is not accessible if you've made further modifications. Remove the custom ad blocker rule(s) and the page will load as expected.