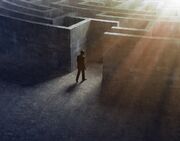 Posted on 21 January 2015
Puzzle
Clue: Это было самое высокое дома в городе.
Recognizing the language the clue is in, use a Russian keyboard such as Russian.TypeIt.org to type the letters based on the position of the buttons in the image.  You get:
архангельск
The English translation of the clue is It was the tallest house in the city. Researching the tallest house in the city of архангельск (Arkhangelsk) results in the solution stl.la/sutyaginhouse.
Reward
Ad blocker interference detected!
Wikia is a free-to-use site that makes money from advertising. We have a modified experience for viewers using ad blockers

Wikia is not accessible if you've made further modifications. Remove the custom ad blocker rule(s) and the page will load as expected.