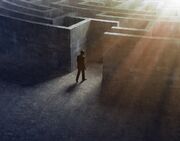 Posted on 19 January 2015
Puzzle
filler
The Vanishing point  text is not a good clue this time. Look closely elsewhere.
This place shares its name with Charles Buchinsky (1921 - 2003).
If you zoom in on the right side of the windshield, you see these GPS coordinates: 34.121331, -118.314337.  That is the location of one of the Bronson Caves, which was used as a location in filming the original Batman series. The solution is stl.la/batcave .
Reward
Ad blocker interference detected!
Wikia is a free-to-use site that makes money from advertising. We have a modified experience for viewers using ad blockers

Wikia is not accessible if you've made further modifications. Remove the custom ad blocker rule(s) and the page will load as expected.