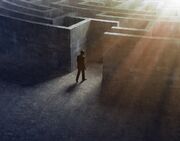 Posted on 4 April 2015
Puzzle
This marks our 150th Challenge! Go, Students!
And as always, you'll need knowledge of the past week to solve this.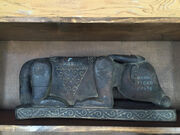 There is a figure with the letters:
OAMOC
FIQGU
CPSIQ

and the word "MARTES". 
Both the "MARTES" clue and the language it's in are key.
From Tyler Hinman: "Remember when I said it's always Vigenère? Yeah, it's not Vigenère."
Since "MARTES" is Tuesday in Spanish, you tranlate the answer to Tuesday's Math Challenge puzzle to the Spanish word "melocotonero".  When using a Vigenère Cipher doesn't work, you try other ciphers such as a Subsitution Cipher.  To decipher text encrypted with a Substitution Cipher using a keyword such as "melocotonero":
Remove any duplicate letters from the keyword, resulting in "MELOCTNR".
Remove those letters from the letters of the alphabet, resulting in "ABDFGHIJKPQSUVWXYZ".
Concatenate the two parts from Step 1 and Step 2 to get the 26-letter Substituion Cipher key "MELOCTNRABDFGHIJKPQSUVWXYZ".
Decode each letter of the cipher text by substitution the corresonding letter:
M E L O C T N R A B D F G H I J K P Q S U V W X Y Z
↓ ↓ ↓ ↓ ↓ ↓ ↓ ↓ ↓ ↓ ↓ ↓ ↓ ↓ ↓ ↓ ↓ ↓ ↓ ↓ ↓ ↓ ↓ ↓ ↓ ↓
A B C D E F G H I J K L M N O P Q R S T U V W X Y Z

Use that table to decode the Challenge cipher text:
O A M O C F I Q G U C P S I Q
↓ ↓ ↓ ↓ ↓ ↓ ↓ ↓ ↓ ↓ ↓ ↓ ↓ ↓ ↓
D I A D E L O S M U E R T O S

The answer is stl.la/diadelosmuertos .
Reward
The video of Robyn's Excellent Adventure
Ad blocker interference detected!
Wikia is a free-to-use site that makes money from advertising. We have a modified experience for viewers using ad blockers

Wikia is not accessible if you've made further modifications. Remove the custom ad blocker rule(s) and the page will load as expected.