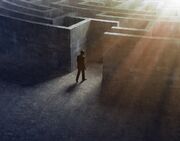 Posted on 22 May 2015
Puzzle
Clicking on the image goes to a stl.la link, stl.la/commacommaquestionmark which redirects to Q-R.to/14MD  which redirects again to various pages depending on the country. Each page results in some text, which can be combined with the ",,?" punctuation in the image:
This is from the movie Jurassic Park and is a quote by Jeff Goldblum's character, Ian Malcolm. The solution is stl.la/ianmalcolm .
Ad blocker interference detected!
Wikia is a free-to-use site that makes money from advertising. We have a modified experience for viewers using ad blockers

Wikia is not accessible if you've made further modifications. Remove the custom ad blocker rule(s) and the page will load as expected.