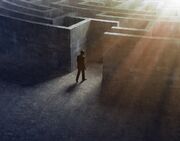 Posted on 2 April 2015
Puzzle
... und dann einen Schritt nach rechts.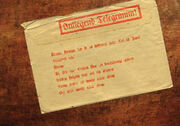 There is a reason why the text is in german. 
Think how you can give a jump to get a text in german
Official Solution:

From the clue (translated to English: ...and then a step to the right.), you determine that German language plays a part, and that something should be a "jump to the left" (lyrics from The Time Warp from Rocky Horror Picture Show).

You make the leap that you should use a German keyboard, and you should shift every letter or character to the left one place. This gives:

Jetzt, Gehirn, die du mir gegeben hast. War es Hans Delbrück ist? Nein. Ah, sehr gut. Würden Sie mir vielleicht sagen, dessen Gehirn habe ich in setzen? Dann werdet ihr nicht böse sein? Ich werde nicht böse sein.

In English:

Now that brain that you gave me. Was it Hans Delbruck's? No. Ah! Very good. Would you mind telling me whose brain I did put in? Then you won't be angry? I will NOT be angry.

This is a scene from the movie Young Frankenstein. The answer to the question is:

Abby Normal

stl.la/abbynormal, or stl.la/abbeynormal
Reward
The video in Breadcrumbs
Ad blocker interference detected!
Wikia is a free-to-use site that makes money from advertising. We have a modified experience for viewers using ad blockers

Wikia is not accessible if you've made further modifications. Remove the custom ad blocker rule(s) and the page will load as expected.