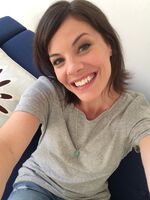 Original Link
Posted on 8th of October 2014
Transcript
Hi everyone!
Just a quick post this morning to thank you all for being so awesome yesterday. 
So many nice comments. So many great emails. It's been a tough time for me and your positive thoughts mean a lot. 
Most importantly, some of you have shown a real interest in learning more about the Truth. Some of you have even declared that you will stand with me on this journey. Rest assured that your friendship and loyalty will not be forgotten. It will not be an easy road, but nothing good is ever easy, right?
More soon,
-S
P.S. Ibrahim K., a special thank you for being the first to declare your devotion to the Truth.
P.P.S. To my intrepid Solvers, your efforts are noted and appreciated. LOTS more to come. This is going to be fun. ;)
And JoJo Stratton and Hugo N. get the nod for being the first to solve my hidden multi-step challenge yesterday! Good work team! :D
Extra Notes
The multi-step challenge mentioned above was the one started in About Me
Ad blocker interference detected!
Wikia is a free-to-use site that makes money from advertising. We have a modified experience for viewers using ad blockers

Wikia is not accessible if you've made further modifications. Remove the custom ad blocker rule(s) and the page will load as expected.