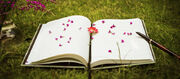 Posted on 4th December 2014
Transcript
Via Tyler: I came across this fantastic page today, and I think it meshes pleasantly with my love of words and our mutual interests. Several words stuck out to me as apt for our community and its efforts, although I think I can tie in every one of the words at least a little! What are your favorites?
There's a Word for That: 25 Expressions You Should Have in Your Vocabulary
My favorites are definitely:
20, 21, 25, 7, 12, 14, 1, 23, 6, 13, 14, 23, 2, 13, 25, 21, and 19 (in that order).
Ad blocker interference detected!
Wikia is a free-to-use site that makes money from advertising. We have a modified experience for viewers using ad blockers

Wikia is not accessible if you've made further modifications. Remove the custom ad blocker rule(s) and the page will load as expected.