Original Link
Posted on 28th of September 2014
Transcript
Sorry about the clickbait title, but it did get you here. :D
So, anyway, in last post I talked about how all the famous ancient civilizations are all built on the bones of older societies, and that each of these ancient societies has something to teach us about humanity and the world today.
Do yourself a favor? Commit these names to memory. Because they are the bearers of the ancient wisdom that we need to fix this broken world.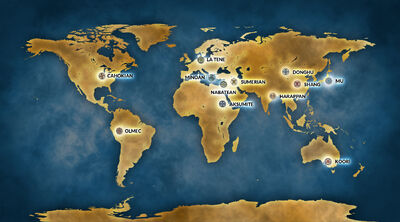 AKSUMITE
CAHOKIAN
DONGHU
HARAPPAN
LA TÈNE
KOORI
MINOAN
MU
NABATEAN
OLMEC
SHANG
SUMERIAN

Soon we'll get into the REAL history of these ancient societies, and the hidden truth of their true importance. If you can't wait to get started, take a look at this short overview of the Twelve.
Over the next few weeks, I'll be delving into each one of them. I'll cover the "accepted" history of these societies. There's still so much we don't know.
But we know a lot more than people think we do. Soon you will too.