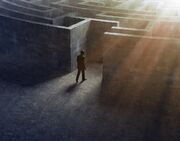 Original Link
Posted on 13th of October 2014
Transcript
In my travels I have seen many monuments to the dead, and I often take some time writing down what I've seen. Most are quite clear about the year of their death, though others tend to more cryptic.
DIMITRIOS NICON LUX IN TENEBRIS
Puzzle
The description mentions years and how they can be showned in a cryptic way.
Think also how years are normally shown in old monuments.
This puzzle is a sort of Chronogram .
Remove all the non-Roman numeral letters from the words to get: DIMII IC LX I I
Add up those numbers to get your solution: 1503 + 101 + 60 + 1 + 1 = 1666.
Reward
The message in Early access