Ad blocker interference detected!
Wikia is a free-to-use site that makes money from advertising. We have a modified experience for viewers using ad blockers

Wikia is not accessible if you've made further modifications. Remove the custom ad blocker rule(s) and the page will load as expected.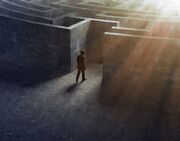 Posted on 9 / Dec / 2014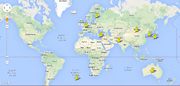 Screenshoot of the map ->
Link the places on the map together
Look for the capitals names
Assign each country their capitals
Australia / Canberra
Finland / Helsinki
Turkey / Ankara
North korea / Pyongjang
Pakistan / Islamabad
Japan / Tokyo
Tristan da Cunha/Edinburgh of the Seven Seas
Holland / Amsterdam
Mongolia/Ulan Bator
Getting the first letter of each one you get the word Chapiteau
stl.la/chapiteau  leads to Swirl

On solution page a scramble image of a Boomerang, a weapon of the Koori line can be seen.

Unscramble image ->