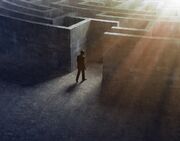 Posted on 9 / Dec / 2014
Puzzle
Screenshoot of the map ->
Link the places on the map together
Look for the capitals names
Assign each country their capitals
Australia / Canberra
Finland / Helsinki
Turkey / Ankara
North korea / Pyongjang
Pakistan / Islamabad
Japan / Tokyo
Tristan da Cunha/Edinburgh of the Seven Seas
Holland / Amsterdam
Mongolia/Ulan Bator
Getting the first letter of each one you get the word Chapiteau
stl.la/chapiteau  leads to Swirl
Reward

On solution page a scramble image of a Boomerang, a weapon of the Koori line can be seen.

Unscramble image ->
Ad blocker interference detected!
Wikia is a free-to-use site that makes money from advertising. We have a modified experience for viewers using ad blockers

Wikia is not accessible if you've made further modifications. Remove the custom ad blocker rule(s) and the page will load as expected.