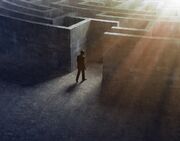 Posted on 30 June 2015
Puzzle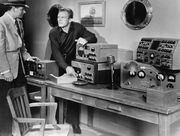 There is a word in the image that will help you with the audio transmission
You should have a sentence now. Just google it.
Looking closely, you see the word "Hellshreiber" on the radio in the lower right. Researching leads you to the Hellschreiber radio fax machine . Downloading one of many Hellshreiber apps available, you decode the audio file that's playing in the background:

"Who knows what evil lurks in the hearts of men?"

Researching some more leads to you an early radio show, The Shadow, which is the answer.
Ad blocker interference detected!
Wikia is a free-to-use site that makes money from advertising. We have a modified experience for viewers using ad blockers

Wikia is not accessible if you've made further modifications. Remove the custom ad blocker rule(s) and the page will load as expected.