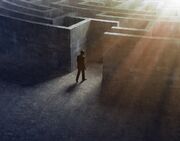 Posted on day 14 July 2015
Puzzle
Today's Challenge will test your cartographic skills:
The important thing is the letters. They are needed to make words but you might have think vertically instead of horizontally to move them.
With the 4 words a bit of goggle and history might help find the solution
This is a simple drop puzzle, with an added blank section.
  BOZOIL
  MRMALE
 
  MOSINCA
 SEAOWSKEY

The trick here is to reorder the letters in each of the columns to create words (puzzle half solved below)
  BRO OIL
  MOS ALE
 
  MOZ INCA
 SEAM WSKEY


Once you solve it you get the following:

browse
Mosaic
________
Mozilla
SeaMonkey

Which leaves you looking for an 8 letter word. With the hint, "browse" and the other 3 being various browsers, in order of creation, you must be looking for what would fit in between, which is Netscape !
Ad blocker interference detected!
Wikia is a free-to-use site that makes money from advertising. We have a modified experience for viewers using ad blockers

Wikia is not accessible if you've made further modifications. Remove the custom ad blocker rule(s) and the page will load as expected.