Ad blocker interference detected!
Wikia is a free-to-use site that makes money from advertising. We have a modified experience for viewers using ad blockers

Wikia is not accessible if you've made further modifications. Remove the custom ad blocker rule(s) and the page will load as expected.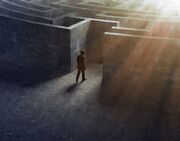 Posted on 13 April 2015
Think of what you are seeing and what or who could have been the first one
Notice the odd lettering around the triangle, that is "moon language", which translates to the following:

The first one of these stl.la/otousan

Following the stl.la link leads to:

https://www.youtube.com/watch?v=4-hsHf-4c8A&feature=youtu.be&t=81

A video of a dog in space (Otousan of the White family).

Thus the answer to the question of the first dog in space is:

Laika or Лайка

(Also, if you look closely, into the center of the triangle, you can see a portrait of Laika.)
The artifact Cahokian Thunderbird