Ad blocker interference detected!
Wikia is a free-to-use site that makes money from advertising. We have a modified experience for viewers using ad blockers

Wikia is not accessible if you've made further modifications. Remove the custom ad blocker rule(s) and the page will load as expected.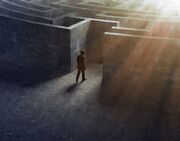 Original Link
Postedon 1st November 2014
- we snubbed
- reexamined lame
- designated ham
- pill
- integer
Remember this is the last puzzle of the week and before this one there were 5 others
Maybe those bullet points aren't exactly bullet points
The point here is to subtract the letters of the each line to the corresponding landing page title of each of this week puzzles (there are some extra letters in the new words).
Between Us - we snubbed = et Medical Examiner - reexamined lame = ic
The Damage Is Done - designated ham = eo
Liar - pill = ar
Greetings - integer = gs

Putting them all together we get eticeoargs which is an anagram for categories. 
stl.la/categories takes you to a page called No Goodbyes
The video Jake