Posted on 18 March 2015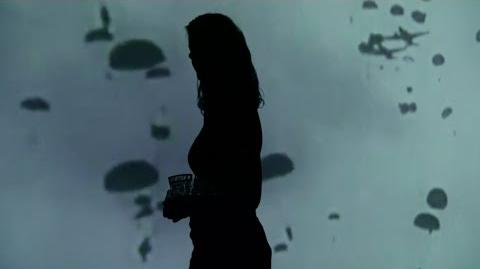 Transcript
I have been living in a fantasy. The party. My birthday. The Cahokia Mounds.
I think I may have let contentment and hope obscure reality. I sort of took my eye off the monster.
You know, the more I think about it, the more it looks like Endgame is the only game we're capable of. Lethal tribes wiping out other lethal tribes. The same movie playing over and over again.
You know, I tried, I tried to believe that the Truth could be what saves us. That it could be humanity's salvation. But what if the Truth is just ...
... war.
Hm? Self destruction. Oblivion. Death.
What if the Truth is Endgame?
You know, maybe it's actually better this way. Maybe this is what we deserve. Eleven out of twelve dead. A chance to start again with the best of us at the helm, clinging to that high wire of extinction. You know, a civilization where only champion killers are worthy of survival. Maybe that is the only remedy for a terminally sick world.
Or, hey, you know, maybe just rainbows and unicorns. Whatever gets you through the night.
Ad blocker interference detected!
Wikia is a free-to-use site that makes money from advertising. We have a modified experience for viewers using ad blockers

Wikia is not accessible if you've made further modifications. Remove the custom ad blocker rule(s) and the page will load as expected.