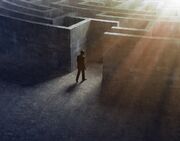 Posted on 14 January 2015
Puzzle
filler
In the image, there are a series of a specific number of symbols from some of the 12 lines, namely:
3 Aksumite
7 Cahokian
3 Olmec
6 Harrapan
2 Mu
4 Koori
2 Sumerian
Taking the nth letter, as indicated by the number of symbols, from the name of the corresponding line provides the answer stl.la/sampuru
Reward
filler
Ad blocker interference detected!
Wikia is a free-to-use site that makes money from advertising. We have a modified experience for viewers using ad blockers

Wikia is not accessible if you've made further modifications. Remove the custom ad blocker rule(s) and the page will load as expected.