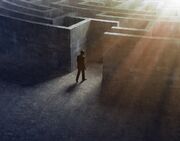 Posted on 6 May 2015
Puzzle
Today's challenge will help you develop your skills of tolerance, pattern recognition and lateral thinking:
Analyse this line by line and you will see a pattern
Each QR code leads to a photo:
You make the leap that every row has something in common:
Row 1: Thomas the Tank Engine, Danny Thomas, Thomas Edison = Thomas
Row 2: George Jefferson, Jefferson Starship, Jefferson Davis = Jefferson
Row 3: Jim Parsons, Rihanna, Steve Martin = Home (cast of the feature film)
So, putting them together gives:

Thomas Jefferson('s) Home,

which, after some research, gives you the answer: Monticello
Reward
The page Cracked Mirror
Ad blocker interference detected!
Wikia is a free-to-use site that makes money from advertising. We have a modified experience for viewers using ad blockers

Wikia is not accessible if you've made further modifications. Remove the custom ad blocker rule(s) and the page will load as expected.